Silver surfers – rolling out tourism growth on the coast?
FOR IMMEDIATE RELEASE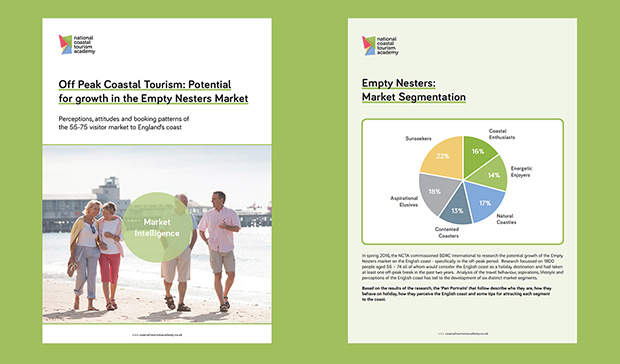 Silver surfers – rolling out tourism growth on the coast?
The over 55 age group will be the largest sector of the population by 2024, numbering more than 22 million. So-called empty nesters could offer the latest in a suite of opportunities identified by the National Coastal Tourism Academy's (NCTA) to drive up off-peak tourism on the coast, according to its latest research.
A survey of 1,800 adults aged 55 to 75 reveals that half of this group believes the English coast to be as wild and beautiful as any other coastline in the world, with most favouring a coastal harbour town or a rural seaside break.
A primary motivation for many empty nesters is to escape or relax, but 65 per cent visit the seaside to walk or hike and 59 per cent to observe its nature or wildlife. Some three-quarters of this group travel with a partner.
"In the past ten years there has been a steady increase in the proportion of over 55s in paid work; in 2015, 56 per cent were still employed. This group is generally better off than the generation below, both in terms of salaries and investments. Furthermore, they're happy to travel out of school holidays – 72 per cent avoid July and August - making them an ideal audience for coastal breaks," said NCTA director Samantha Richardson.
"This new report looks at the reasons empty nesters visit the coast, their perceptions and activities and how they plan their trip – use of social media, for example, has risen significantly, with 72 per cent of those aged 55 to 64 now using the internet on a daily basis.
"However more needs to be done to attract this group. While half of the empty nesters surveyed believed the English coastline to be as good as any other in the world, only one third believes individual destinations have something unique to offer them and few think they're becoming more appealing."
Empty Nesters: Coastal Holiday Pen Portraits
Analysis of the travel behaviour, aspirations and lifestyle of this age group and their interest in visiting the coast off-peak has led to the development of six profiles, key segments for coastal destinations to target.
Each pen portrait provides a snapshot of the group's general holiday behaviour, recommendations on how to attract them and what destinations should deliver and offer.
Sixteen per cent of empty nesters are Coastal Enthusiasts who are always on the look-out for new things to do and places to see, they enjoy socialising and meeting new people. More affluent than average, they prefer premium or mid-tier accommodation and, importantly, 56 per cent are not deterred by poor weather in the off-peak season.
Energetic Enjoyers comprise 14 per cent of respondents; very sociable and fun-loving, most of this group uses social media in everyday life. Key motivations for visiting the coast include taking part in an activity or sport or to attend an event or festival. This group is attracted to a destination that offers a wealth of amusements, attractions and activities.
Natural Coasties account for 17 per cent of those surveyed; they like to revisit places and enjoy nature, gardens and beautiful scenery. They plan holidays online, prefer self-catering accommodation and enjoy bird-watching, hiking, walking or visiting parks. A key target market, 54 per cent of this group had holidayed on the UK coast in the past two years.
Thirteen per cent are Contented Coasters, happy with their pace of life, they like to repeat their visits and avoid crowds. They like quiet, familiar destinations and prefer to stay in B&Bs. They like to explore their hobbies and enjoy history and culture.
Eighteen per cent are Aspirational Elusives; well-travelled and on the look-out for new experiences, they will pay more for the right product, 57 per cent like to stay in a premium hotel. Aspirational Elusives seek history and cultural events and activities.
Twenty-two per cent of those surveyed are branded Sun Seekers; although this group likes to travel overseas for a holiday, more than one third had travelled to the UK coast in the past two years. The best way to attract this group is through online marketing and publicity.
Ends/
Notes to editors: To read more on the Empty Nesters research and the six pen portraits, download the full reports HERE
The NCTA commissioned the independent research company BDRC Continental to survey 1,800 adults aged 55 to 75 in 2016. The results led to the development of six distinct market segments which provide analysis of the travel behaviour, aspirations and lifestyle to enable coastal destinations and businesses greater insight into this group.
The National Coastal Tourism Academy (NCTA) is a Coastal Communities Fund project that analyses the nature of coastal tourism to help boost jobs and the coastal tourism economy. It works with academia and the tourism industry to bridge gaps in research, visitor experience, training and skills. Having worked initially in Bournemouth with the local tourism industry and Bournemouth University, the NCTA is now working with coastal resorts nationally.
For further media information, please contact Sheron Crossman, Marketing and Communications Manager, Sheron.crossman@coastaltourismacademy.co.uk or tel: 01202 962565.