Coastal Tourism
The National Coastal Tourism Academy (NCTA) was established in 2013 with funding from the Coastal Communities Fund to create a centre for excellence, share best practice and analyse the nature of coastal tourism to boost jobs and economic growth in the visitor economy.
The NCTA has an in-depth knowledge of the visitor economy on the coast – to follow are some of the headline findings of this work:
Domestic Tourism
Valued at £8bn for Domestic overnight and day trip spend


Classification:
Empty Nester (55+ yrs / no children)
Independent (35 - 54 yrs / no children)
Family (16 - 54 yrs / with children)
Pre-nester (16 - 34 yrs / no children)
Seasonality has changed little since 2008 with 36% of visits in July and August.

Domestic overnight visitors to the coast are highest in the South-west (40%)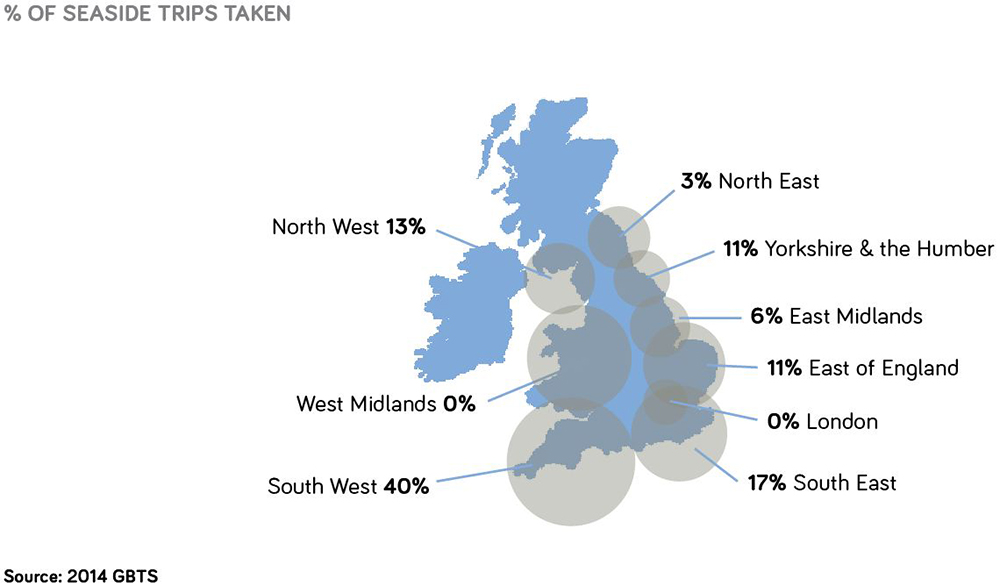 International Visitors
15% of all international visitors visit the coast of England (IPS 2011), equivalent to c. 1.8 million visitors.
Key source markets for international visitors to the coast are Germany and France.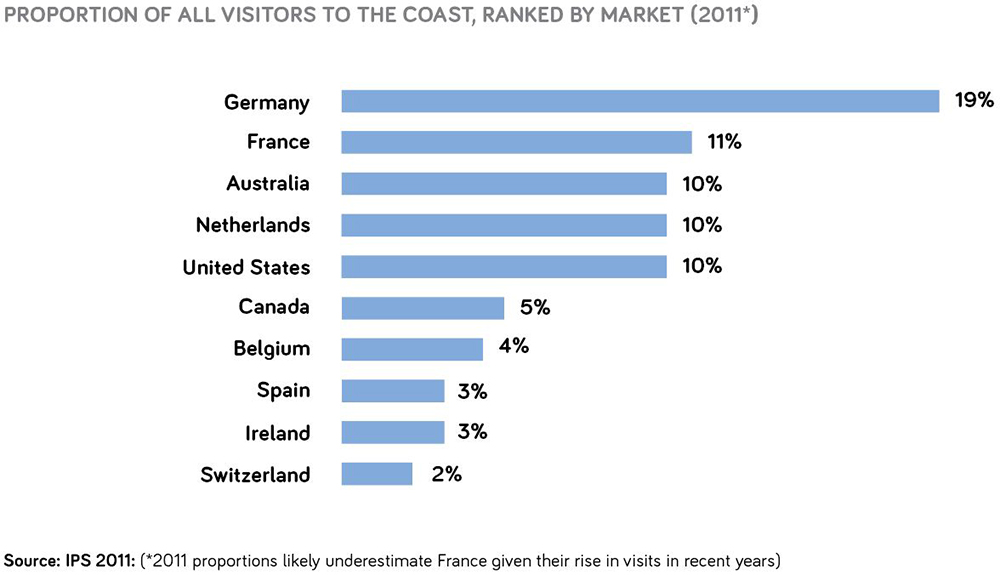 Employment & Types of Business
210,000 jobs worth £3.6bn (Sheffield Hallam University 2014)
+ 1% growth
Higher than average concentration of SMEs in coastal visitor economy
<3% corporate brands on the coast (National Coastal Tourism Academy 2015)
31% of residents work part-time
→ Net outflow of commuters (ONS 2014)
Staffing is a significant challenge on the coast – hardest to fill vacancies are Chefs, house keepers and chamber maids (NCTA 2015)
Opportunities for growth
Through new research on coastal tourism the NCTA has identified key opportunities for growth:
Health and Wellness
Under 35s
Empty Nesters (over 55s)
Business Events
International visitors
Reducing seasonality
Across all markets though there is a need to raise awareness of the coast's offer
For full details of these markets and research see our resource hub