​Sweet Flavour of success
This week we hosted our second Masterclass for hospitality staff looking for inspiring ideas and motivation to see their careers rise fast, presented by owner and resident chef of the successful Flavours School of Cookery Des Burke. The Masterclass is part of our Fast Track project with the Government's UK Commission for Employment and Skills.
Des revealed how he started cooking at home with his Jamaican mother rustling up family Sunday lunches before embarking on his journey in the hospitality industry, training with Albert and Michel Roux completing a three year apprenticeship and gaining a NVQ Level 1 and 2. He then travelled to New Zealand and Australia cooking his way through the outback picking up all manner of flavours, textures and spices.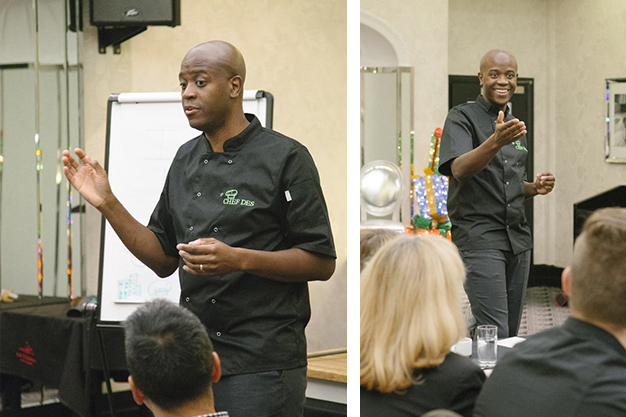 He opened Flavours School of Cookery in Bournemouth with eight customers. "When I opened my cookery school people said it would not last six months and here I am now six years on with 7,500 customers sampling my 37 flavours such as Thai, Indian, sauces, vegetarian and so on," Des explained.
"I am successful because I give people confidence and new experiences in the kitchen and I always aim to make you feel better than you did. I have learnt along the way that two things matter – how I market myself and how to solve people's problems.
"Hospitality is all about seeking the opportunities, setting out your career pathway and having the ambition and commitment to make it happen. It's not just about food – you are about something BIG! We can do so much more and we can all be an inspiration to other people in hospitality by finding time to inspire and sell to other people, it makes you feel better!"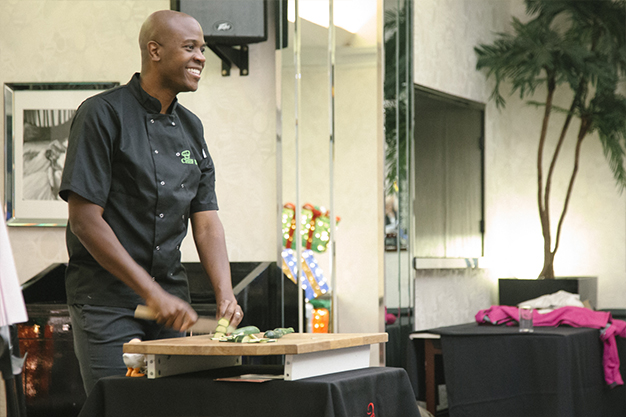 Des emphasised that this is an industry that allows movement in job roles which enables you to lay down foundations for the future and with the right attitude you can soar your way to the top fast. Judging by the interaction, the delegates were truly inspired by Des's story and many came away thinking about how to mark out their career path.
By Lindsay Smith
We are running more Masterclasses too, click here to download the flyer!
For more information on this event and our new series of hospitality motivational MasterClasses, contact Lindsay.smith@coastaltourismacademy.co.uk or tel: 01202 962073.