How to attract more: Families
In 2015 families made up the highest proportion of visitors to the English coast, accounting for 41% of all seaside domestic overnight trips. In this blog post we will offer some top tips for attracting this flourishing market to your coastal tourism business.
Firstly, some facts. Beach holidays are a major draw for families in England, 61% of young families and 55% of older families visit a beach while on holiday. 50% of families say that reconnecting with their children and spending quality time together is an important part of a holiday. The English coast meets these requirements well, and not just in the peak summer months, if you can promote all-weather facilities in your destination then you could boost business in the shoulder season and secondary breaks in February, May and October half terms which are becoming more popular in this sector. (Statistics from TNS analysis of VisitEngland GBTS survey, and further research from the NCTA, find more on our Resource Hub)
5 useful tips for families
1. Local knowledge
- Don't forget to mention free local facilities known only to locals, for example a secret path to the beach, a special ice cream parlour, story-time at the local library, family events. People love getting away from the crowds, uncovering secret gems and feeling a sense of adventure!
2. A welcoming website
- Promote a big welcome to families on your website alongside all your family-focused facilities, let them know you're a family friendly business, make them feel at home!
3. Be informed, to inform
- Ensure you're well stocked with information on local family-friendly attractions, particularly those all-weather venues. Make sure you know prices, opening hours, facilities and directions including public transport.
4. Kids zone
- Do you have a large public area? Create a kids zone! Provide books, toys and games, if it's near your cafe or refreshments area you may also boost your business there with the watchful parents!
5. Make dinnertime flexible
- Try to be flexible with eating times. Families with young babies and toddlers may prefer to eat earlier than other guests. Check with parents if they prefer to eat together or for children's food to be served when it's ready.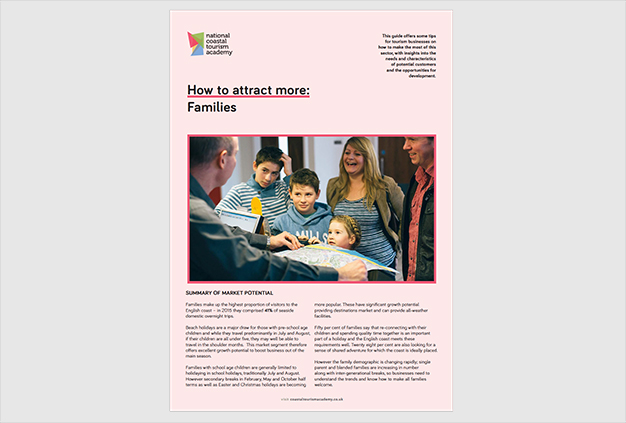 Our full 'how to guide' is a must read for all coastal businesses who attract tourists, we offer a summary of market potential, interesting facts about customers with families, recommendations for basic provisions at accommodation, making the most of the opportunity and also further product development.
View the full 'how to attract more: families' guide on our resource hub here.