​Bitesize Bournemouth
Bitesize Bournemouth is a brand new, whistle-stop introduction to our great resort, designed for all new recruits to the tourism industry. And best of all it's completely free.
Our first Bitesize Bournemouth was held last month and will continue to be held every other week at different venues across town, making them easy to get to wherever you work.
Snappily presented by seasoned hotelier Simon Scarborough, guests are given a 60-minute overview of the town's history, tourism attractions, transport links, suburbs – a quick-fire introduction to the resort from a visitor's perspective.
"It's vital that visitor-facing staff have a solid grasp of Bournemouth and what it has to offer, they're almost always the first port of call when guests are looking for ideas," says Simon Scarborough.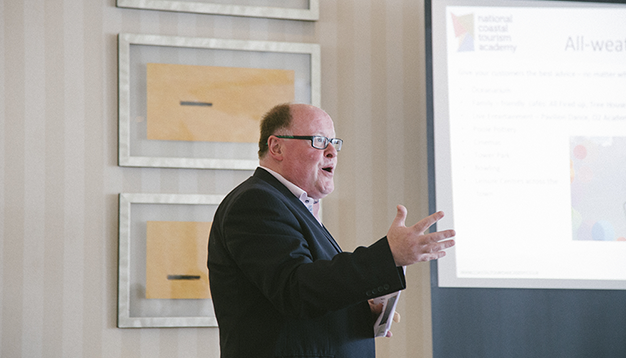 "Everyone in the tourism industry is busy, but these sessions are short, interactive and fun and provide a great induction for anyone who's new to the town or needs a quick refresher. Nothing beats walking around the resort, taking a look at the gardens, shopping areas, location of nightclubs and major attractions. It makes it so much easier when you've seen attractions first-hand to make recommendations to others."
Each session also includes pointers on how to deliver great customer service and ends with either a talk on an upcoming event, such as Wheels or the Food and Drink Festival, or a guided walk pointing out key tourist landmarks or points of interest such as post offices, department stores, Tourist Information Centre, the Pavilion and BIC. The walks last no longer than an hour, finishing by 5.30pm.
The seminars have already proved highly popular, prompting the following comments:
"A fantastic introduction to Bournemouth"
"Some excellent points about customer service and what to suggest to guests"
"I have no (further) suggestions as I thought the training had no faults at all"
For more information and to book your place on the next session, contact Natalie Tye, Natalie.tye@coastaltourismacademy.co.uk
By Sheron Crossman