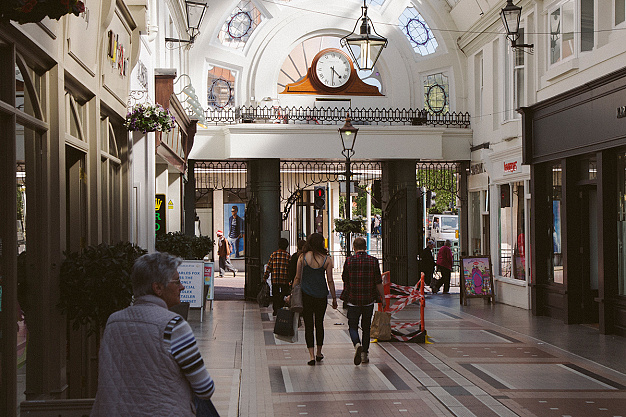 ​British High Streets: from Crisis to Recovery
"There are no hard times for good ideas" according to American retail magnate Harry Selfridge, and the latest report from the University of Southampton shows that the British High Street has been innovating and developing during the recession.
Strong, diverse, attractive and imaginative high streets are crucial to every tourism destination. VisitEngland research reveals that retail spend during UK holidays is worth £9,121m and 17% of the overall holiday spend. Retail provides wet weather activities but run-down boarded-up shops detract visitors, giving an unsafe and unwelcoming impression of the resort.
Retailing in coastal areas often relies on tourism, whether boutiques or bucket-and-spade souvenir shops, independents, familiar high street brands or gift shops attached to attractions. Tourism boosts shopping numbers during the season, and provides new and fresh marketing opportunities.
Headline findings:
UK High Streets have been through a crisis: 75,000 employees were affected by the collapse of 54 retailers in 2008. Between 2007-2013 25,000 stores and 223,347 employees were affected by store closures.
Vacant units rose from 7% (2008), peaking at 16.3% (2012), falling back to 13% by April 2014. 2006-12 saw business rates rise 29% and rents climb 4%, compared to the RPI rise of 22%, acknowledged by the government introducing rate relief on business rents.
Online shopping remains a threat, changing habits and presenting new challenges. 38m adults (76%) in GB were online daily, 7 out of 10 using a mobile/portable device. Online sales are forecast to be 20-30% by 2020.
UK population is growing, aging and more ethnically diverse

In 2015 – more than half of retail spend comes from the 45+ age group. They have increasingly active lifestyles and require leisure services tailored to their interests.
Ethnic diversity impact is under-researched, often showing lower cost labour, street markets, strong word-of-mouth and social networking.

The work of Business Improvement Districts and the changes (rises and falls) in the different categories of shop are also investigated
Key recommendations for high street success:
Right mix of shops, avoiding over-representation of one type
Easy car park access
Availability of lavatories
Feeling of safety (especially as consumers look to later opening hours) and public transport options throughout the whole day and evening periods.
Good customer service, exceeding expectations and social experiences
Availability of a range of food outlets, places to eat and socialise, alongside non-retail attractions such as open spaces and gardens
Promotion of information - opening hours, events, bargains, atmosphere and markets complemented by free wifi, website/apps, coordinated marketing messages and good signage
Compact, pedestrian friendly areas work better than linear (especially featuring empty units)
To download and read the whole University of Southampton Report, click here.
You can also view the University of Southampton's press release here